Have you met Andy Coulson? He's a nice guy. One of Changey Dave's™ new, more huggable Conservatives. As Director of Communications, I'm sure he had a hand in the poster campaigns and slogans that tell us it's time to make Britain better.
And as Editor of the News Of The World, he presided over a "culture of bullying", which lead to a settlement of nearly £800,000 for unfair dismissal and disability discrimination. The victim of this bullying was sports writer Matt Driscoll. As The Guardian says:
According to the tribunal, the bullying continued after Driscoll went on sick leave. Senior management at the paper sent Driscoll a barrage of emails, phone calls and visited his home to demand that he see a company doctor, despite Driscoll's GP advising him to "distance" himself from the source of his stress.
Are all Directors of Communication sent on a Malcolm Tucker course?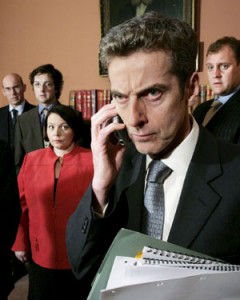 But maybe you remember the News Of The World phone hacking scandal? Their royal correspondent Clive Goodman was found guilty of intercepting voicemail messages. Andy Coulson has repeatedly said he does not recall any of his journalists being involved in hacking anyone's voicemail. He may have even said the same thing to a Parliamentary committee.
But it's all old news. The convictions were bought, hands were wrung, water under the bridge.
That said, according to Nick Davies, it's not.
In a series of reports over the past year, he has uncovered what could be characterised by some as a culture of voicemail interceptions at the paper, and found that the private investigator at the heart of the intercepts, Glenn Mulcaire,
was highly prized for his skills and that he was at the heart of the paper's investigations unit and was a guest at dinners and parties. Senior figures from the paper, however, insist that they knew nothing of this. Andy Coulson, told the media select committee he had never met Mulcaire nor even heard his name during his six years at the paper. The paper's legal adviser, Tom Crone, also said that he had never heard of Mulcaire until he was arrested in August 2006.
The interception of voice mail messages is an imprisonable offence, and Davies' findings directly contradict the official version of events as outlined by the paper and its then editor.