Let's take another randomly generated delve into the Radio Times Guide to TV Comedy, by the brilliant Mark Lewisohn. Today we land on page 241, where we find, neatly ensconced between the entry for Fawlty Towers and Marty Feldman, the 1979 Thames Television sitcom Feet First.
It's written by two of my favourite writers, John Esmonde and Bob Larbey, both responsible for some of the best sitcoms you will ever see, and was broadcast on ITV in January and February of 1979. Apparently seven episodes were filmed, but only six were broadcast. I wonder why.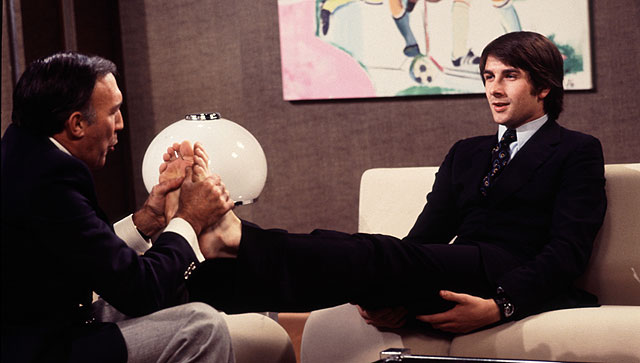 Anyway, it's about a mechanic who plays for his local football team, only to be signed up to the razzmatazz world of First Division football. Lewisohn warns us not to confuse this one with the 1997 Chris Barrie vehicle A Prince Among Men, which is about a star footballer turned business entrepreneur.
Feet First was Esmonde & Larbey's second foray into the world of football, after their 1974 children's sitcom Football Crazy, again for ITV.
Best of all, the whole series is available to buy from Network, those delicious denizens of rare ITV archive shows. So if you want to see it, you can.