If there were a new sketch show on tonight with Bill Bailey, Sean Lock, Hugh Dennis, Pauline McLynn, Mina Anwar, Martin Freeman and Russ Abbott, God only knows how the smug continuity announcer would introduce it.
And if that show was written by the likes of Mitchell & Webb, Cecil & Riley, Richard Preddy & Gary Howe, Sam Bain & Jesse Armstrong, James Cary, Daniel Maier and Lucy Porter, I suspect said continuity announcer would have an orgasm.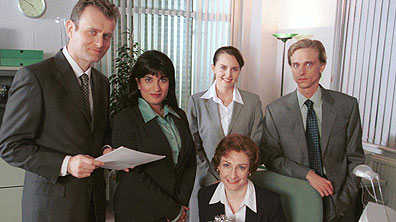 Not that a continuity announcer would have any inkling of what a comedy writer does, but never mind.
Anyway, this show exists.
It's called TV To Go.
Better than virtually every other sketch show produced around the time, TV To Go almost inevitably didn't last long – perhaps because its success caused a rapid expansion of some of its stars' bookings, but mostly because its material, modern, shifting and new technology, was hard to pin down.
But it was the best of its kind at that time, and other shows are still chasing its tail.
Trouble is, there's no video of it on the toobs, so it might as well not exist. There are some postage stamp sized Real Videos of cast and crew interviews, but because my computer isn't a decade old, they won't play for me. They're all here though, if you can get them playing.
I had it all on VHS from when it aired, because some of my sketches were on it, and I'm vain like that, but history ate VHS and they no longer exist.
BBC Comedy site about TV To Go.