In the early 1980s, people were rushing to start their own production companies, in order to take advantage of the new quotas for independent productions. Talkback, Hat Trick, and Tiger Aspect were among the more successful of these ventures, while Limehouse Productions decided to go a step further and set up their own studio. Limehouse was founded by the former execs of Southern Television, which has just lost its licence to broadcast.
With a wad of funding cash, they found a site on the docklands that used to be called Canary Wharf. It was the No. 10 Warehouse (30 Shed) on the South Quay Import Dock. The warehouse was originally built for rum and bananas, but had lain empty for a decade or so.
The conversion cost £3.6 million, based on a design by Sir Terry Farrell (who had just converted a garage in Camden into the TV-AM studio), and the two studios were actually concrete boxes mounted on springs to reduce noise and vibrations. And it was home to quite a number of shows, including Who Dares Wins, Food & Drink, Treasure Hunt, This Is Your Life, Network 7, and Spitting Image. According to the TVStudioHistory website:
The construction work ran about five weeks behind schedule but allegedly that was mainly due to repainting the front of the building at the wishes of the architect. Terry Farrell went on to design the MI6 building in Vauxhall and the distinctive office block above Charing Cross railway station on the Thames.  The family resemblance is clear.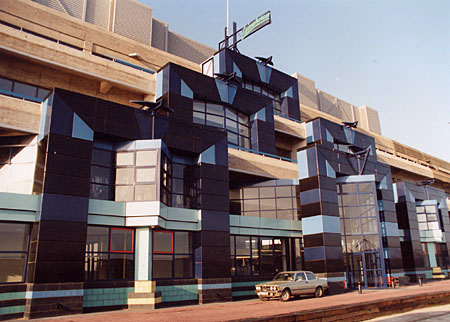 The only trouble was, The London Docklands Development Corporation got a huge offer for the entire site, and a compulsory purchase order was issued on the studios. In October of 1988, Olympia & York bought it for £25 million, and promptly demolished it.
Here's the studio's showreel from 1987 – but unfortunately without audio, which has been removed for copyright reasons.