Astronauts was written by Graeme Garden and Bill Oddie, and script edited by Dick Clement and Ian La Frenais. It aired on ITV at the end of 1981.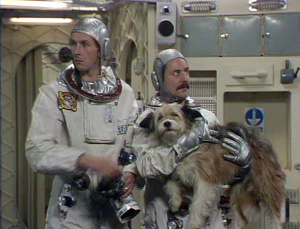 Three astronauts, Christopher Godwin, Carmen du Satoy, and Barrie Rutter are launched into space for six months with a dog and only a small two room tin can to live in. The series did not fare well on British TV, and the US pilot did little better, in spite of Henry Blake's role.
No clips I'm afraid, but the whole thing is available on DVD.
Have you seen it?