I've been looking for this for a while now, and I would usually file it under e.phemera (which is where I put things that I like and want to be able to find again easily), but it's inspired enough memories to write a short blog.
It's called Stand Up With Alan Davis, and it follows him on his 1999 UK tour as he interviews a number of comedians about their craft. This is the first part of part one:
If my memory is not deceiving me, this was broadcast some time in late 2000, and it is the thing that gave me the final kick up the arse to become a stand up comedian.
Having watched it, I bought a few books, including [amazon asin=0878300740&text=Zen and the Art of Stand Up Comedy], [amazon asin=057369916X&text=Successful Stand Up Comedy], and [amazon asin=0823088146&text=How To Be A Working Comic]. In fact, I recently realised that these were the first books I ever bought from Amazon, way back when it looked like this: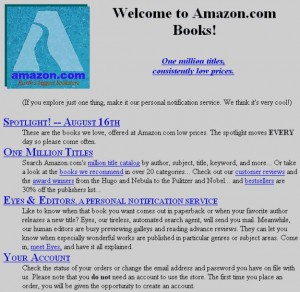 Having read them, and bookmarked loads of pages (I found them the other day and was amazed that I hadn't picked them up since), I got on the Web and tried to find somewhere local to do my first gig.
Luckily, Virginmirth were Bristol based – back then it was organisation that was there to help new and newer acts hone their act and do some gigs. So I emailed them asking for more details about how to book my first gig. I got a single sentence reply saying "You've been booked for a spot on March 17th …" with the rest giving the venue name and time.
Blimey. I didn't know what to say or do, so I spent the next few weeks putting my set together and rehearsing it in my bedroom. Never do this, unless you root yourself to the spot and stare at yourself in the mirror, or you'll do what I did and pace from side to side out of habit (and nerves).
I didn't tell anyone I had my first gig booked. Not even my driving instructor, which is why he booked me in for my driving test on the morning of the gig. Well, if I was going to be nervous all day, I might as well be nervous for that too.
I failed.
I got to the gig and watched the small room above the pub fill up with people and acts. I decided, foolishly, to open with a brand new joke about failing my driving test. I fluffed it. Badly. I started pacing from side to side, not looking at the audience, swallowing back the hoarse dryness in my throat. But I pushed on, and started with the set I had practised. The first joke got a big laugh (it may have only been a titter, but to my rookie ears it was a big laugh, and a huge relief after the silence of the fluffed line). I don't remember much after that, but I came off feeling exhilarated and desperate to do more.
I got chatting to a man who soon became the most influential and supportive comedian I'd meet – Mark Olver – who immediately offered me a second gig at his new night the following week. He gave me the opportunities over the next few years to try out new material on a regular basis, which did me no end of good.
Anyway, that's how it was at the beginning, there's more to tell, but for now, this is the documentary that finally moved me from thinking about doing stand up to actually getting up and doing it.