My friend Sam reminded me the other day that when we launched the first episode of Sundays Supplement, I was amazed that anyone actually listened to it. So you can imagine how thrilled I am that people kept listening, and kept telling people about us, and our audience kept growing, and people like Rebecca Watson, Richard Wiseman and Stewart Lee came on and spoke to us.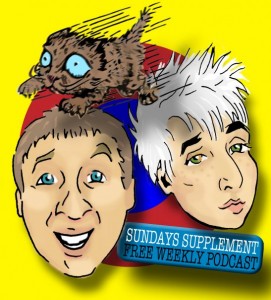 What's more, this week we recorded our 100th episode, which as arbitrary numerical milestones go is a pretty big one.
So thank you all for plugging your ears in to the internet once a week, iszi and I really appreciate it.