About Writing: Index Cards
There are a number of great software packages that can help you make your writing life easier. Screenplay formatting is one of them. And until yesterday, I would have also suggested Index Card packages, like the one from Mindola.
I must admit, I'd been seduced by digital index cards. I liked the way they worked, and I liked the way I had more scope with the digital cards. But yesterday I decided to start planning my next script with a pile of old index cards that had been sitting on the shelf.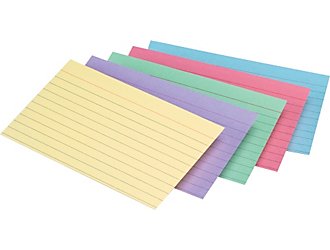 And I remembered why they are such a good tool.
With the software, you are limited to the screen real estate; that you can click a card and see loads more notes compensates for this, but it also thwarts your overall view. As Andy Riley says:
@sighdone Real index cards rule. If you use one on a computer screen, your whole plot is squashed into a small rectangle.

— Andy Riley (@AndyRileyish) April 1, 2013
@sighdone And it's hard to see the whole thing At once. I like 6×4 footboard

— Andy Riley (@AndyRileyish) April 1, 2013
He's right.
I like to lay them all out on the carpet and stand over them like I am some kind of God. There's also something to be said about their tactile nature. Being able to hold one in your hand and tap your chin in pensive thought as you try to figure out where to slip it into the grid is better than any mouse hovering. Moving them around by hand is more satisfying.
And if you don't like a card, dropping it in the trash becomes cathartic. You can tear it in half, or hurl it across the room like you're David Letterman.
There's also something tangible about using a pen to scrawl out an idea. It somehow feels more real; you own it.
Anyway, revisit your old index cards, they'll forgive your absence.