Mandie Fletcher made her debut as a sitcom director during the last series of Carla Lane's Butterflies, in 1983. This was the story of Ria Parkinson, and used its traditional sitcom elements to explore some much darker areas, including suicide and teenage pregnancy.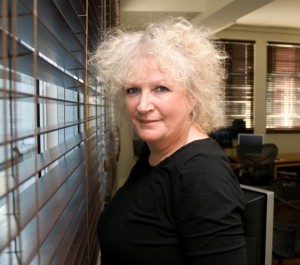 From there Mandie moved on to another BBC sitcom, this one called The Fainthearted Feminist, which aired in March/April of 1984. Starring Lynn Redgrave, and written by Jill Tweedie, it was based on the latter's successful Guardian column.
Next came the pilot of Doris Richards' Barnet, in 1985.
… this single episode sitcom told the tale of Maurice Barnet [Donald Churchill], once employed by the swanky Ponsonby's Hairdressing salon in the West End of London but now reduced to running a tatty establishment in the downmarket East End of the city.
Moving on from there, after a stint on the Michael Elphick series Three Up, Two Down, Mandie was asked to direct the second series of Blackadder in 1986. In JF Roberts' The True History of the Black Adder, she says:
I was put onto Blackadder as some kind of punishment by the Head of Comedy, I remember. I wasn't that experienced then, and arriving was like walking into a pillow fight … It was a nightmare … I just gritted my teeth and made bloody sure that we had a show that could be shot on the night.
The experience didn't put her off fully it seems, because Mandie returned in 1987 (after a season directing Only Fools And Horses) for Blackadder The Third, before directing the second series of Brush Strokes.
Also around this time came the Kathy Staff vehicle No Frills, written by Janey Preger, a comedy about the north/south divide and three generations living together, which suffered unfair comparisons to Simon Brett's After Henry. According to Mark Lewisohn though, this show was darker and had a lot more edge.
In 1989, Fletcher directed the Comic Aside's pilot of Ian Hislop and Nick Newman's The Stone Age. This starred Trevor Eve, Clive Anderson as himself, Carmen du Sautoy, and Roger Lloyd Pack, and was the story of a multi-millionaire Rock Star who had grown bored of his life.
After forays into drama including Hamish Macbeth and Tales From The Crypt, Fletcher returned to sitcom with the critically acclaimed Roger & Val Have Just Got In, before reviving Absolutely Fabulous for its three specials in 2012.