About Writing: Writers Write
I had a really great time at the London Comedy Writers' Festival, learning a lot and meeting plenty of nice and helpful people. A few other blogs have covered the better tips and advice, especially this one, so I thought I'd have a whinge about something else instead.
It amazed me how many writers don't write.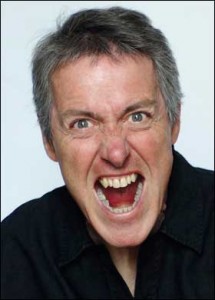 I heard a number of them talking about how they don't have time to do it, and it always gets put on the back burner.
Writers write.
They always find time to do it. If you can find time to watch telly, or find time to go to the pub, you can find time to write. In fact, if you can find time to eat, and find time to breathe, you can find time to write. If you haven't got completed work to show producers, publishers and agents, then what do you think you are?
Writers WRITE.
The best (repeatable) anecdote I heard was from Griff Rhys Jones about Linehan & Matthews huddled under the last remaining lightbulb in the Talkback flat with their laptop. They didn't want to stop writing to change the bulbs.
The best unrepeatable anecdote was from Paul Jackson and Jon Plowman, who were every bit as entertaining as they were insightful.