A Rude, Crude Team Out To Make Mayhem
Four months before The Young Ones was first broadcast, it was already making sensationalist headlines in the tabloids. Take this fabulous single page spread for example, from The Daily Mirror on Saturday 28th August 1982.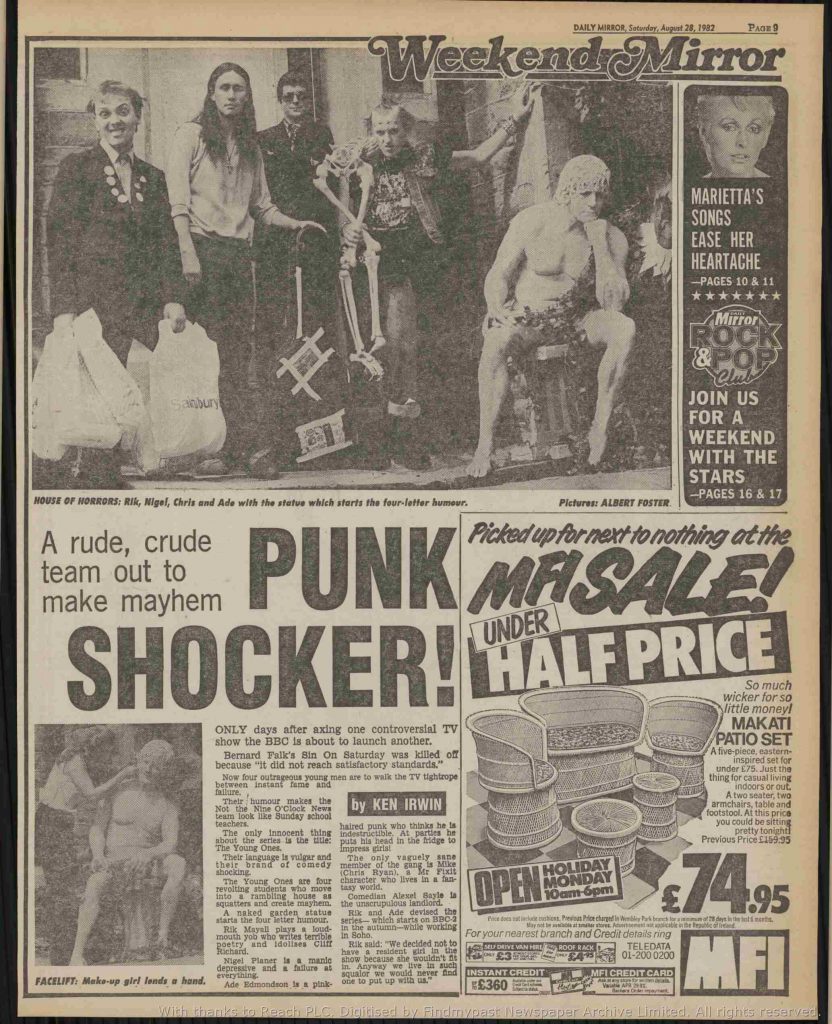 Here's the text if you can't quite make it out.
ONLY days after axing one controversial TV show the BBC is about to launch another. Bernard Falk's Sin On Saturday was killed off because "it did not reach satisfactory standards." Now four outrageous young men are to walk the TV tightrope between instant fame and failure. Their humour makes the Not the Nine O'Clock News team look like Sunday school teachers. The only innocent thing about the series is the title: The Young Ones. Their language is vulgar and their brand of comedy shocking. The Young Ones are four revolting students who move into a rambling house as squatters and create mayhem. A naked garden statue starts the four letter humour. Rik Mayall plays a loudmouth yob who writes terrible poetry and idolises Cliff Richard. Nigel Planer a manic depressive and a failure at everything. Ade Edmondson is a pink-haired punk who thinks he is indestructible. At parties he puts his head in the fridge to impress girls! The only vaguely sane member of the gang is Mike (Chris Ryan), a Mr Fixit character who lives in a fantasy world. Comedian Alexei Sayle is the unscrupulous landlord. Rik and Ade devised the series— which starts on BBC-2 in the autumn—while working in Soho. Rik said: "We decided not to have a resident girl in the show because she wouldn't fit in. Anyway we live in squalor we would never find one to put up with us.
A couple of interesting things to note here. I think it's based on a press release, probably written by Paul Jackson, but I can't prove that of course. I have no idea why Vyvyan is being described as pink-haired (lucky the papers were all black and white back then), nor why the show is being credited as a creation of Rik and Ade.
Equally interesting is that this article appeared just days after the episode shown (Oil) was recorded in the studio (25th and 26th August), though I don't know when the OB stuff was shot in Bristol.
The article clearly references the cancelling of Sin On Saturday, which was a talk show hosted by Bernard Falk, based around the seven deadly sins. This show was featured on TV Hell in 1992.