This story begins with a small, innocuous looking press cutting from The Stage, dated 21 September, 1978. The article is about The Two Ronnies, who are to make at least six episodes of their show for the Nine Network in Australia.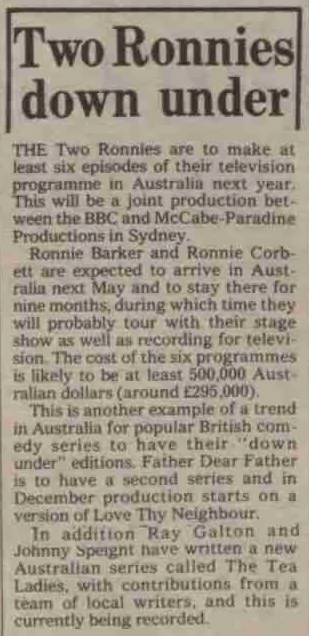 This is interesting enough on its own. The show ended up being called The Two Ronnies in Australia, and only very recently did it appear on UK screens as part of Channel 5's The Two Ronnies Unseen. They would go on to make a second series of this, shortly before Barker's retirement in 1986.
William G Stewart was the man responsible for taking these British shows down to Australia and remaking them.
But it's the final paragraph of the article that really tickled my interest.
In addition Ray Galton and Johnny Speight have written a new Australian series called The Tea Ladies, with contributions from a team of local writers, and this is currently being recorded.
This writing partnership, with one half of the Steptoe pair teaming with the man who created Alf Garnett, came about when Alan Simpson took a step back from writing and started touring French vineyards in his Rolls Royce. Tessa Le Bars was instrumental in teaming these two up, and they went on to write the ITV sitcom Spooner's Patch.
On paper, this was an arresting prospect … As it transpired, though, Spooner's Patch was a patchy disappointment. Worse, it was dogged by cast changes and ITV industrial action that caused episodes in two of the three series to be rescheduled, destroying continuity.

Radio Times Guide To TV Comedy, Mark Lewisohn, pg 631
This wasn't their first TV collaboration, as we have seen. The Tea Ladies aired on Network Ten a year earlier in 1978. It began on 14 September, at 8.30pm, and ran for eight episodes. It starred Pat McDonald, Sue Jones, and Tim Robertson.
That broadcast date contradicts the article above a little, unless they were recording the show that close to broadcast. But a look inside the Australian TV Times, here, confirms the dates.
Things become a shade murkier too, when we look at the British version of the show. Some sources have this listed as the inspiration for the Australian version, but according to the BFI, it wasn't aired until a few months later, in 1979.
The one-off pilot, starring Mollie Sugden, Patricia Hayes, and Dandy Nichols, was directed by Dennis Main-Wilson, and had a broadcast in January of 1979 on BBC One. Maybe it was filmed long before that, and Galton and Speight then took the idea to Network Ten.
The British pilot was billed in the Radio Times as Galton & Speight's Tea Ladies.
What's most irksome is that I can find no clips of either the pilot, nor the Australian show. Both shows were about the tea ladies in the houses of their countries respective parliaments, and this is a fascinating slice of comedy history that just seems to have fallen off the radar.