What better way to spend a Sunday morning than having a look at the addresses of businesses and homes mentioned in sitcoms. I'll be honest, I don't know them all, and I can't for the life of me tell you the address of the building in 30 Rock.
A nice touch in the US version of The Office, is that the Scranton Business Park that is home to Dunder Mifflin, is situated on 1725 Slough Avenue. One of a sprinkling of references to the UK version. It does bother me that they used the same font for both main fictional companies mentioned in the show though.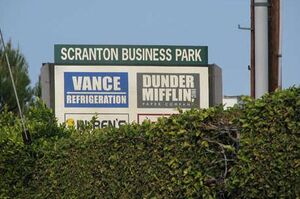 Hancock famously lives 23 Railway Cuttings in East Cheam, while Reggie Perrin's address was 12 Coleridge Close.
Jerry's apartment in Seinfeld sits at 129 West 81st Street. Variously it's apartment 5A or 3A or 411.
In Bottom, Richie and Eddie live at 11 Mafeking Parade in Hammersmith. This may or may not be a reference to the siege during the second Boer War.
The Young Ones finally settled in Codrington Road, somewhere in London, though the actual location is in Bishopston in Bristol.
And Basil's hotel Fawlty Towers sits on a plot at 16 Elwood Avenue, Torquay.
I know there are millions more, so now it's over to you to tell me them all.