Sometimes the history algorithms on YouTube mean I get given the choice to watch some random, but interesting, things. Today it offered me this.
Not the crappy John Virgo bit, of course, but the promo for Tripper's Day, a Leonard Rossiter sitcom for Thames Television in 1984. It was written by Brian Cooke, and abruptly ended after the death of Rossiter.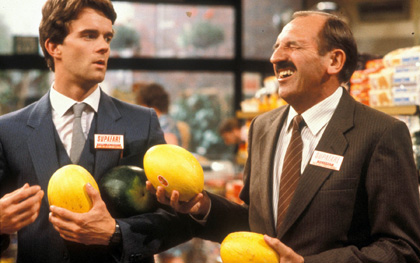 Two years later, it was retooled as Slinger's Day, with the eponymous role re-cast with Bruce Forsyth. This time, Cook only wrote two episodes of the twelve that aired over two series. The rest of the writing duties went to Vince Powell, Alex Shearer, Ian Davidson & Peter Vincent (Sorry!), and Marshall & Renwick.
It was also remade for Canada, and US syndication, as Check It Out!, starring Don Adams, and ran for three seasons over 66 episodes.