Just stumbled across this on YouTube, and it made me want to do some research. So, once you've watched it, you can learn some more.
First up, we see Good Heavens, starring Carl Reiner, aired on ABC in 1976. It lasted 13 episodes, and was about an angel who came down from heaven to grant wishes to people who had done a good deed.
Next is Turnabout, co-created by Steven Bochco no less, airing on NBC in 1979.It only lasted seven episodes, because of a poor lead-in from Hello, Larry, and stiff competition from Dallas. And yes, that's Sharon Gless from Cagney & Lacey.
The Brian Keith Show, also known as The Little People, that lasted for two season on NBC in the early seventies. Garry Marshall wrote a few episodes too. It's about a doctor in Hawaii who works along side his daughter. I wonder if it was being made using the facilities built for Hawaii-Five-O.
The taking off plane announces the beginning of From A Bird's Eye View, made by Sheldon Leonard Productions for NBC in 1971. It lasted for 15 episodes, and was a vehicle for Millicent Martin. It was jointly funded by Lew Grade's ITC, and shot in England.
Nancy is the daughter of the President of the United States, and her story was told on NBC in 1970-71, between Ironside and Dean Martin. Apparently, nobody was ever cast as the President.
Then we find the fabulously titled Needles & Pins, about a women's clothing manufacturer and his employees in New York. Lasting for only 14 episodes, again on NBC, it starred Norman Fell and was produced by Screen Gems.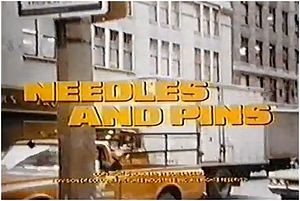 It's possible I've written here about Diana before, a vehicle for Diana Rigg by NBC, in an attempt to capitalise on her success in The Avengers. She plays a divorcee, recently arrived in New York – sounds a bit like The Mary Tyler Moore Show to me.
"Mr Dennis Escorts; wherever you wanna go, we wanna go with you," is the dodgy sounding opening to The Ted Knight Show. And the premises is equally as dodgy. Moving on from The Mary Tyler Moore Show, Ted Knights stars in this CBS sitcom from 1978 … about an escort agency.
The Practice is yet another New York based NBC sitcom from 1976, this one being a vehicle for Danny Thomas, who plays a grumpy, absent-minded doctor.
It's officially called Paul Sand in Friends and Lovers apparently. A CBS show, made by MTM Productions, it aired in 1974-5. It sat between All In The Family, and The Mary Tyler Moore Show, and bombed, even though it was co-created by James L. Brooks.
The baseball playing kids are from The Bad News Bears, a late seventies CBS sitcom based on the earlier movie of the same name. Corey Feldman was in it too.
Getting Together was on ABC from 1971-1972, and was a musical sitcom that lasted for fourteen episodes. It started life as a back-door pilot the previous season on The Partridge Family.
The Good Life is not to be confused with The Good Life from the BBC, which was later re-made for American audiences as Good Neighbors. It starred Larry Hagman, who has a mid-life crisis, and decides to escape from his mundane existence. Sounds familiar so far right? Instead, he becomes the butler of a millionaire industrialist …
Barefoot In The Park is based on Neil Simon's Broadway play, and aired on ABC in late 1970. It was developed for television by Bill Idelson and Harvey Miller. And like it's stable mate sitcom The Odd Couple, it too had a previous airing as a movie.
Bridget Loves Bernie was the highest rated program ever to be cancelled after one season. It was controversial for CBS, because it depicted an inter-faith marriage. The stars married after the show went off-air.
Wait, what? Yul Bryner had a sitcom? Well, there you go. CBS made some odd choices.
Not sure The Sanford Arms can be classed as forgotten, what with it being the follow-up to the hugely successful Sanford & Son, but I guess it did only survive half a season on NBC in 1977.
And finally, Highcliffe Manor was an NBC gothic horror sitcom from 1979 that seems to have fallen through the cracks.