High & Dry came about in a rather convoluted way. A radio sequel to Dad's Army, called It Sticks Out Half A Mile, was piloted on the BBC as a television sitcom called Walking The Planks, starring Michael Elphick.
But when the BBC turned down the chance to make a full sitcom, Yorkshire TV stepped in to make High & Dry, this time starring Bernard Cribbins and Richard Wilson. it was written by Alan Sherwood and Micahel Knowles, and lasted for seven episodes in 1987.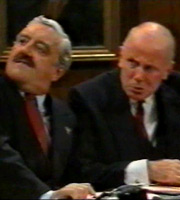 Unfortunately, I can't find any clips of it on the old internets. Sorry.