Opening up a random page of my copy of The Radio Times Guide to TV Comedy once more, I stumbled upon the entry for …
The Life of Riley.
Not to be confused with ITV's version with Bill Maynard in 1975, or the BBC series with Caroline Quentin, The Life of Riley was originally devised as a radio vehicle for Groucho Marx, with the working title of The Flotsam Family, but William Bendix was finally cast and the radio show ran on The Blue Network (later ABC) from 1944 to 1945. It then moved to NBC where it ran until 1951.
During this time, a film version was made in 1949, which tied Bendix to his RKO contract and prevented him from starring in the television incarnation that came about in the same year. Thus, Jackie Gleason took on the role of Chester A. Riley for a single season of 26 episodes. The Life Of Riley won the first ever Emmy Award, but contractual disputes between the producers and the sponsors meant the show ended after only one season.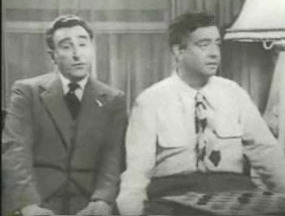 After the radio series later came to an end, the show found a second wind, with William Bendix finally cast on the screen as the title character. This incarnation had greater longevity, running for 217 episodes until 1958. Riley is a precursor to Ralph Cramden, Fred Flintstone and Archie Bunker, but Gleason and Bendix weren't the only actors to play the role. Early pilots featured Herb Vigran and Buddy Grey.