e.phemera: Sitcom Board Games
If you're a regular reader of my blog, you'll know I have a soft spot for classic comedy, board games, and ephemera. So imagine my delight when I came across these whilst doing some browsing for Hi-De-Hi! stuff.
It's a Hi-De-Hi! board game from Waddingtons, and an Are You Being Served? one from Denys Fisher.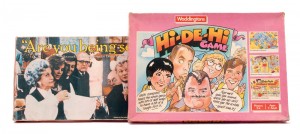 Is Mrs Slocombe holding up a pair of bloomers? I wonder what she said about her cat at that moment.
The speech bubble for Gladys Pugh says:
Hello campers! Here's the whole gang with loads of daft ways to have a bit of a laugh – isn't it?
And Ted Bovis chips in, saying:
Aye we'll spin yer round, dress yer up and take yer fer a ride – you'll love it!
But lest we think this is an 80s phenomenon, how about this?
Another Chad Valley T.V. Game: Hancock's Half Hour, by arrangement with Alan Simpson and Ray Galton.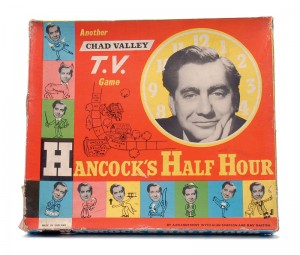 Apparently, this has got an illustrated inner tray that serves as a playing board, a large spinner, and money and playing pieces for four players. Even better, the instructions are printed on the inside of the lid.
These guys seem to be enjoying it: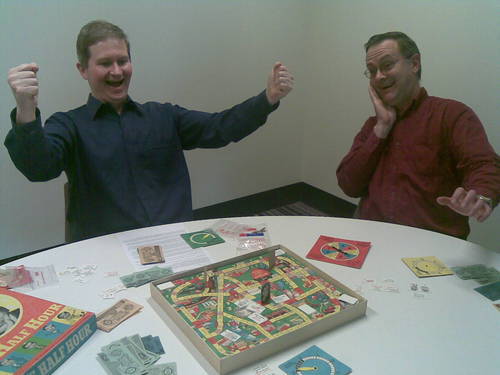 I like the artwork on this next one a lot. It's a 1974 Dad's Army game, also from Denys Fisher.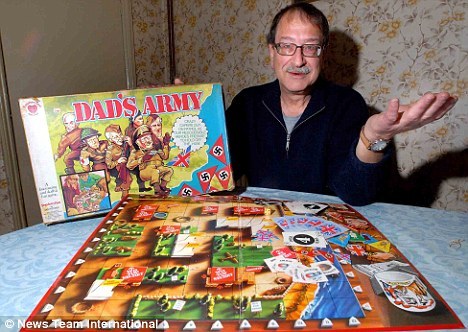 And here's a closer look at the playing pieces: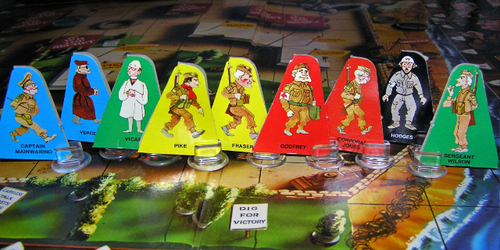 And what's good enough for the Home Guard, is good enough for On The Buses, which Denys Fisher (he invented Spirograph, by the way) released a year earlier.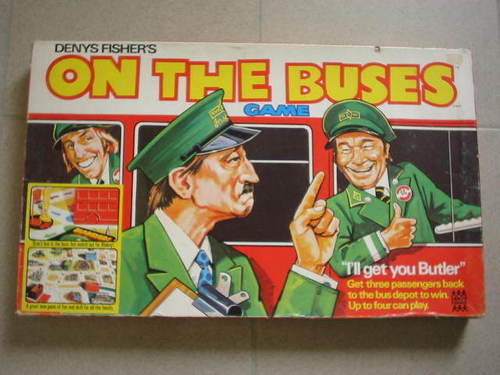 You have to get three passengers back to the depot to win the game. And this is the board you do it on: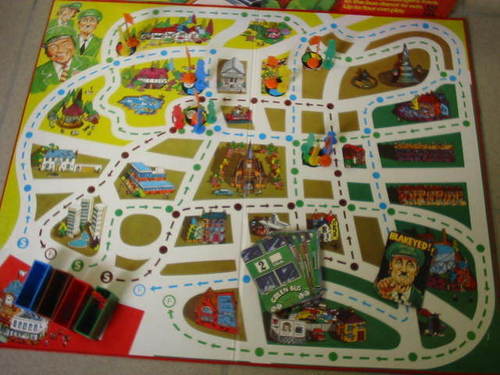 The theme on this Morecombe & Wise game is tenuous, if not completely redundant. You have to roll a dice to decide which cubes you race to poke from a frame. The first to eight cubes wins.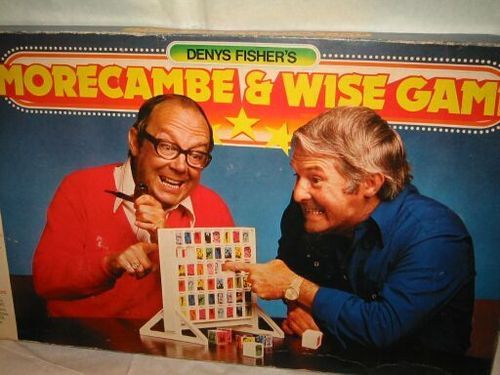 But the artwork on those cubes is wonderful: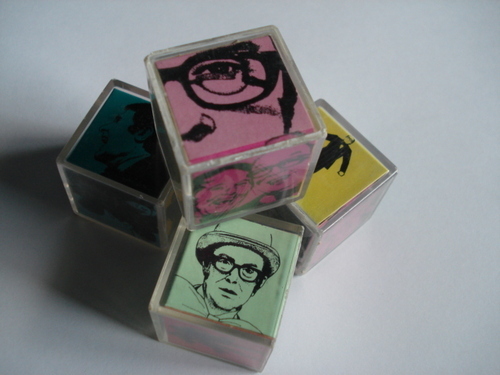 As I was writing this, I remembered there was a board game based on Carla Lane's Bread. I think my sister had it, though we never have played it. There was big china chicken on the box.
The object of the game is to be the first one to leave home.
It's not the prettiest of boards: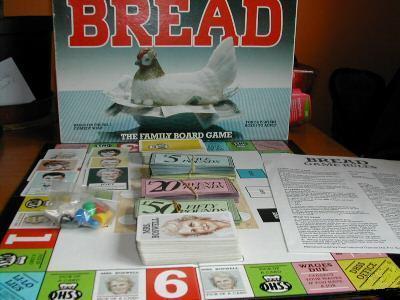 But the cards look good: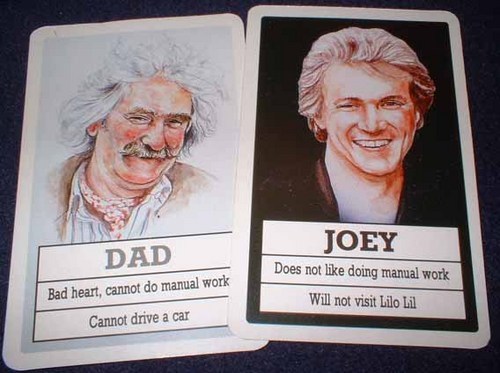 Did you ever play any of these? Do you still own them? I'd love to hear more about them.