I haven't had a Cadbury's Fuse bar since 2006. And do you know what? Neither have you. That's because they were discontinued, even after 40 million of them were sold in the first week alone, and 82% of people rated it as excellent, and 83% said they would buy it again.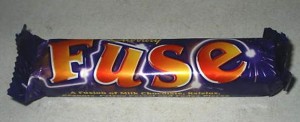 And now, more than anything else today, I want a Fuse.
I don't want a Spira though. I seem to remember the chocolate was not nice.
Anyway, the Fuse was launched as part of a MASSIVE marketing campaign, that included adverts like this:
That actually makes me want a Fuse less now.
According to this case study, Cadbury's set two important objectives for the Fuse. One, to grow the market for chocolate confectionery  And two, to increase Cadbury's share of the snacking sector. I'm fairly sure that's the same goal stated twice.
The 'Fuse' concept was developed after market research identified the growth of snacking and a definite gap in the market for a more chocolatey snack.
It continues:
Having a catchy 'hook' for a new launch helps to make consumers notice the product. Cadbury and its trade customers managed the first availability of Fuse around one day, Tuesday 24th September, aptly christened 'Fuseday'.
This is making me bilious now.
I no longer want a Fuse.
Proof, if proof be need be, that marketing has ruined the world.