I got a little irked when people kept asking me what my next book would be called, so I started to reply by saying, "Keith. It's called Keith."
Turns out I wasn't being facetious after all. Look: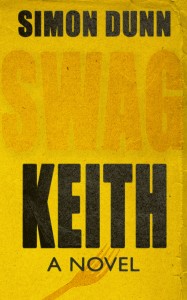 Crime, conspiracy, and cutlery.
Keith, an average man, with a sensible job, cocks a snook at his mundane existence, and he's about to make the biggest mistake of his life.
When an insomniac with an over-active imagination decides to give in to his fantasies, what could possibly go wrong?
And what do the bloodied thorn of a rose, an empty buff folder, and a SWAG bag full of forks have to do with anything?
Keith takes you on a criminal romp through suburbia.
You'll never sleep again.
It's out in paperback from Amazon UK.
It's available on the Kindle from Amazon UK.
It's even out in paperback from Amazon USA.