Every time a character in a sitcom picks up a newspaper, I find it difficult not to lean in and peer at the headline. So, as I began a binge watch of The Likely Lads last night, this moment certainly piqued my attention.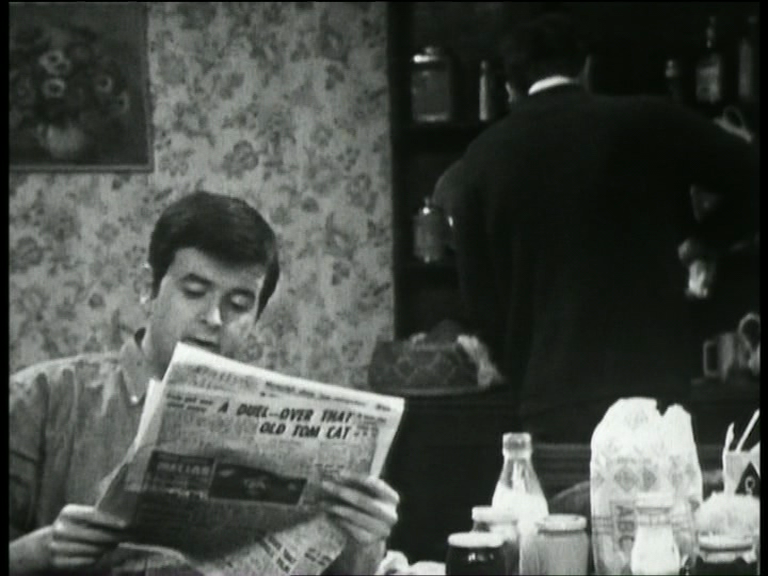 It may not be clear, but you can just make out that it's the Daily Mirror, and that the headline is 'A Duel – Over That Old Tom Cat.
Thankfully, the Mirror is in the British Newspaper Archive, and it was easy enough to locate this edition, from Thursday 22nd October 1964. This first episode, Entente Cordiale, first aired on 16th December 1964, so that gives us a clue about the production dates.
Here's the article.
It's about a cat that seemed to be living at two addresses, and they organised a 'duel' to see who he really belonged to.
There's another article on the page, which is kind of thematic to the show.
This is the full front page.
It took me a moment to get my head around it, but Bob's looking at page three …
… which appears to be about Brian May getting married.
We catch a glimpse of the back page too, which looks like this.
That article about The Eamonn Andrews Show furore is interesting – mentioning a dirty joke by Jimmy Edwards and how his handlebar moustache was a barometer of his sex life.
You might have expected Bob to be reading about the football, especially given the drama at the England match the night before.
Is 6 Across Whisky Galore?
If you want to do the whole crossword, click to make it bigger.