I think it's fair to say that the Daily Mirror were not fans of the sitcom Terry And June. From the moment the show was announced as a retooling of Happy Ever After, the snark in their coverage of the show was apparent.
Take this, from the 20th October 1979, as an example.
Tony Pratt certainly has some views he likes to share. It's quite the thing to claim the BBC has become complacent in a week when Tinker, Tailer, Soldier, Spy came to a conclusion, Not The Nine O'Clock News began, Ripping Yarns continued, and the much delayed episode of Fawlty Towers finally arrived.
The next day, in the Sunday edition of the paper, Ann Pacey was perhaps more damning in her sublety.
Eight years later, and by the start of the ninth series, in July of 1987, the only mention the show was getting (outside of the news pages) were in the listings. They were being curated by Tony Pratt still (glad to see he was innovating, moving on, and not going stale).
And this, with the final episode of the show's run.
The paper's readers on the other hand, at least the ones who bothered to write in about it all, couldn't have disagreed more.
Strange that none of them call out Mr Pratt, instead saving their Noel-like ire for Hilary Kingsley. So what did she have to say about the show that prompted all this, on 25th July 1987?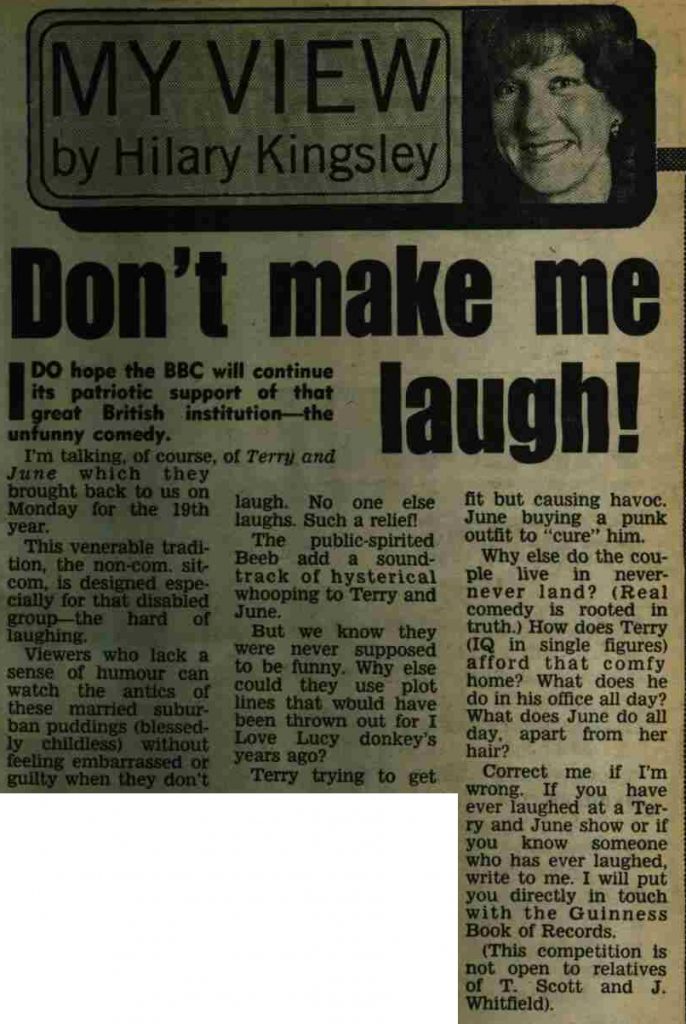 Ah, the old canned laughter canard.
It was left to The Stage, on 30th July, to see the series off with a slightly more balanced, though terribly patronising, review from James Green