Like most towns with a sports centre that lay claim to being the inspiration for The Brittas Empire, there must be a lot of towns with a quirky corner shop that believe it to be the basis for Open All Hours. My home town certainly does (it even makes the page on Wikipedia). It may have a stronger case than many, but I imagine it's still erroneous. The Worm That Turned, the Two Ronnies serial, was filmed in this town, and the establishing shot for the allotment sketches was also – but that's a connection to Barker, not the sitcom creator Roy Clarke.
Open All Hours began life as a pilot episode in the Seven Of One strand, airing on the 25th March 1973. It opened the series, though this wasn't the original intention, as we can see from a few newspaper clippings from the time.
Here's a review in The Daily Mirror, the next day, by Matthew Coady.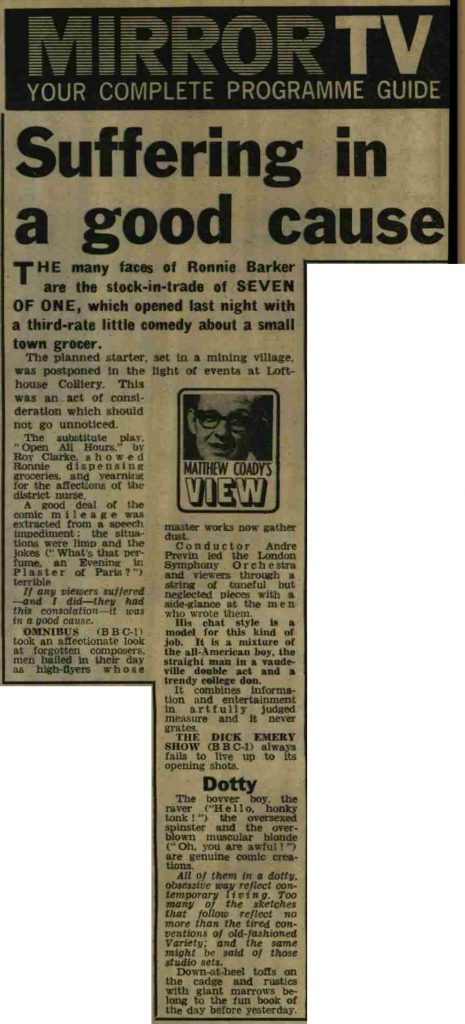 Learn more about the Lofthouse Colliery disaster here.
That painfully dismissive opening paragraph.
James Towler took almost the opposite view in his review for The Stage, on 29th March.
I'm not sure it's either fair or accurate to describe Roy Clarke's writing as 'refreshingly right wing' though.
It would be nearly three years before the pilot became a full series, and the day before that began, the Nantwich Chronicle (and others) ran this preview.
Anthony Davies, in the Coventry Evening Telegraph, was less than impressed with the series, writing as he did about it on 21st February.
I rather like that he lacks the self-awareness to realise after the third paragaph that he then goes on to be guilty of all those things himself in the space on one TV review column.
Hazel Holt seems to have a much better understanding of the show and its writer, giving a fair review of it on the 26th February in The Stage.