We've looked at all sorts of international versions of familiar British shows on this site, and it's always fun to see something we know so well with a different look or in a different voice. But we rarely see the same thing with the same show itself.
Room 101 has had a number of different incarnations. It began life on BBC Radio 5, hosted by Nick Hancock. There were four series and a total of 27 episodes.
When it moved on to BBC Two, it kept Hancock as the host for three years.
In 1999, after a year away from our screens, the show returned with Paul Merton as the new host.
I think the set for this run is my favourite.
The show vanished for five years in 2007, and when it came back in 2012, it was hosted by Frank Skinner, and had a much different format.
So it's interesting that when SBS in Australia made the show in 2015, they opted for the original format, using the second iteration's set.
Here's a shot from the Israeli version.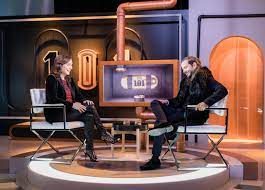 There's a Dutch version too, but I can't for the life of me find any clips or photos from it. Shame.