Keeping Up Appearances was on at the end of every year for its first four series, then it took a whole year off before Hyacinth returned for the final series. Also strangely absent from BBC screens in 1994 was the perenniel presence of Last Of The Summer Wine.
Why the gap?
Did Roy take some time off to write his new sitcom Ain't Misbehavin'? I'm sure that was part of the reason.
I'm also sure the bigger reason was so that he could write his thirteen hour sci-fi fantasy epic The Wanderer for Sky.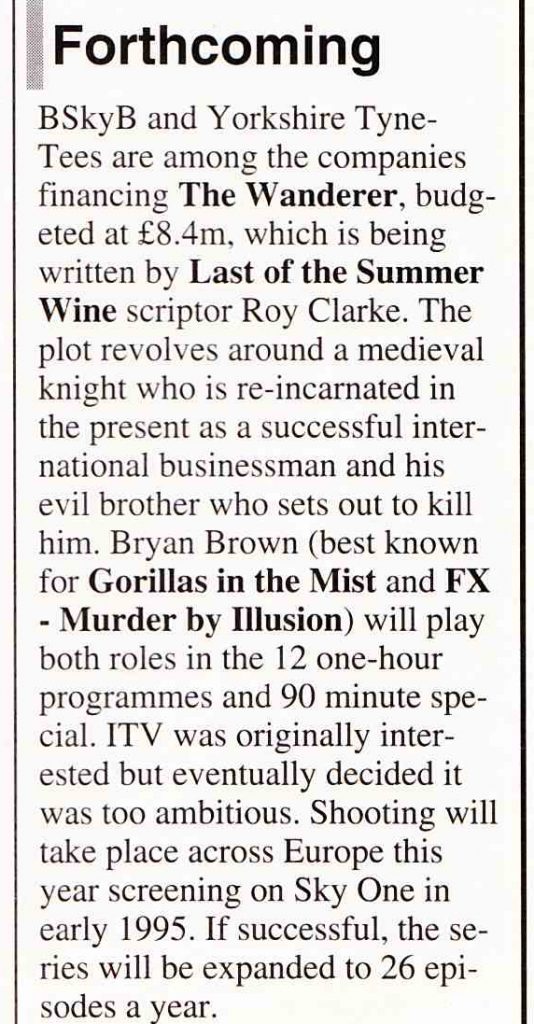 By the end of the year, TV Zone gave over a whole spread to the new show, which aired on Sky One between September and December of 1994.
The Wanderer is the story of two brothers, Adam and Zachary, and [Bryan] Brown plays both. Adam is a reclusive millionaire who is 'awakened' by his evil brother with an 11th Century spear through his chest … When the wounds miraculously heal, Adam begins to recall hazy memories of a past life, he sets out … to discover the truth.

TV Zone, Issue 59, pg 26
Described in the articles as a cross between The Fugitive, Quantum Leap, and The Avengers, there were strong hopes that the show would become a cult success. This is hardly Compo rolling down the hill in a bath.
About June last year I got a phone call from my English agent who said that he'd been given the script for a new series. My agent knew I didn't want to do a series, but he told me it was by Roy Clarke. I'd seen his Keeping Up Appearances and other stuff and thought he was a terrific writer. I told him I wasn't interested but to send me the scripts anyway … they were very original, very different.

Bryan Brown, ibid, pg 27
The show never had a commercial release.